Bio
Three years ago, The Reconstructed called to mind a puzzle waiting to be completed. After the release of Martin England's solo record Razed and Reconstructed, talented local musicians shifted in and out of a lineup that would eventually become today's five-piece band.
Once the group perfected England's solo material they began to collectively work new ideas — and as a result the puzzle pieces clicked together and the band became a unified whole. Realizing they had a chemistry in song craft, they forged ahead and soon had ample material for their debut album, Dawn Chorus.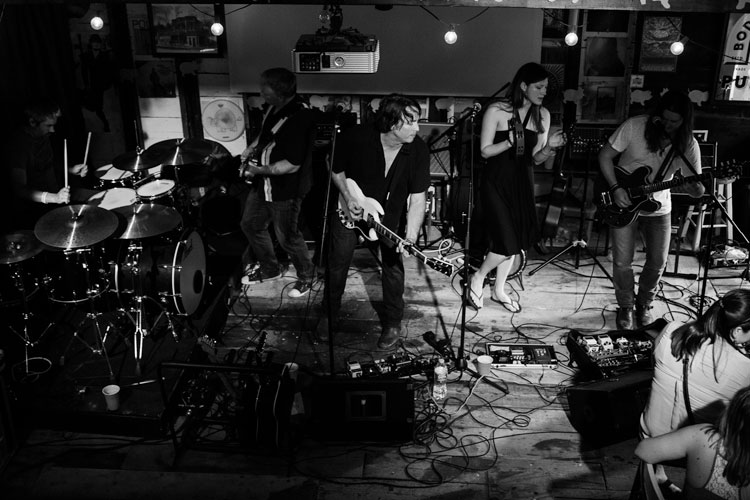 The Reconstructed features veterans of the Seacoast music scene: England fronted Pondering Judd, which over a 10-year career released six albums to much critical acclaim and local popularity. Drummer Sean Daniels recorded and toured nationally with Thanks To Gravity, another stalwart of the nineties Seacoast scene. Bassist Andrew Russell of the Molenes and power popsters Wow rounds out the rhythm section. This trio of elder statesmen form the foundation upon which stand the younger but no less talented duo of Jesse Dold and Courtney Brocks (The Farewell Drugs), who provide a treasure trove of instrumentation and a lush landscape of vocals that blend perfectly with England's Johnny Cash-eque baritone.
England frequently jokes on stage that the band only writes two types of songs - love songs and murder ballads. But the fact of the matter is the scope and range of The Reconstructed's material is vast. From folk songs like Diamond Shine and fan favorite Rollin, to the lush soundscapes of Moonbeam and First Night With the Windows Open, to rock anthems like Stronger in the Morning and Dark Like Ink, their repertoire runs the gamut of genres while sustaining a continuity of band identity and sound.
The forthcoming release of Dawn Chorus (produced, recorded and mixed by Dold at his Ghost Mill Studios in Dover, NH) is the next natural step for the band as they seek to continue their adventure on a more regional scale. They will kick this off with an album release party at 3S Artspace in Portsmouth, NH on September 25th.